12 Game Room Lighting Ideas to Enhance Your Gaming Experience
Nov 07,2023 | Muzata LED Channel
Looking to create a game room that will transport you to another dimension? Want to take your gaming experience to the next level? Whether you have a dedicated gaming space or just a corner of a room, the right design can make your gaming experiences more immersive and exciting.
In this blog, we'll explore 12 game room design ideas to spark your inspiration and help you enhance your setup.
Cyberpunk Game Room Ideas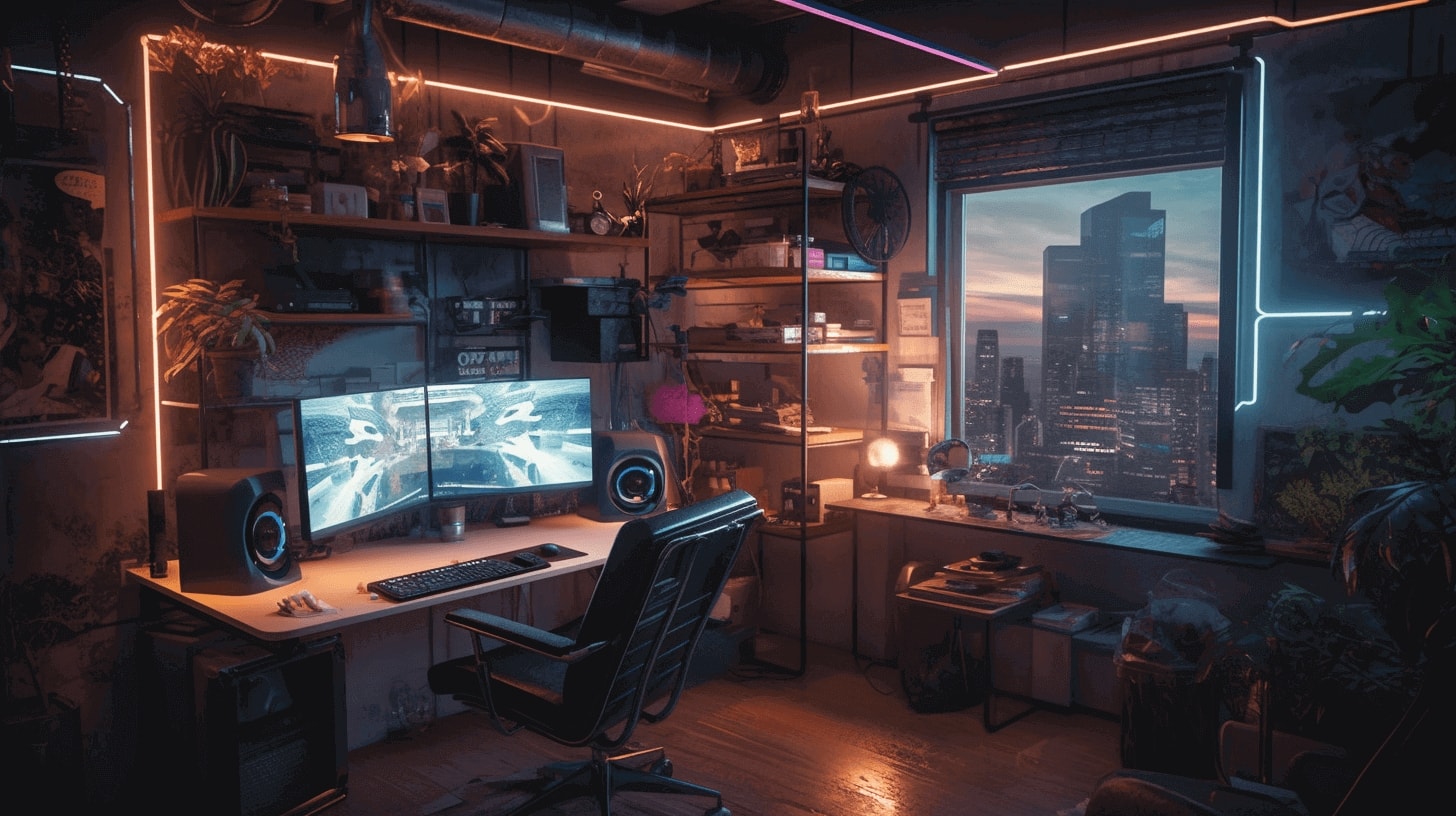 If you want to set up a cyberpunk-inspired game room with LED channel lighting, you can follow the suggestions below:
Color Scheme: Embrace bold, vibrant hues like neon blue, hot pink, purple, and acid green to evoke a cyberpunk vibe. These colors will pop against dark walls and furniture.
LED channels: If you want a spotless effect, you can choose MUZATA U108. If you're looking for maximum brightness and impact, MUZATA U1SW is the perfect choice.
Lighting layout: Outline shelving and desk edges with LED strips for cyberpunk accent lighting. For dramatic overhead illumination, install ceiling lighting that casts a futuristic ambient glow.
Fantasy Gaming Paradise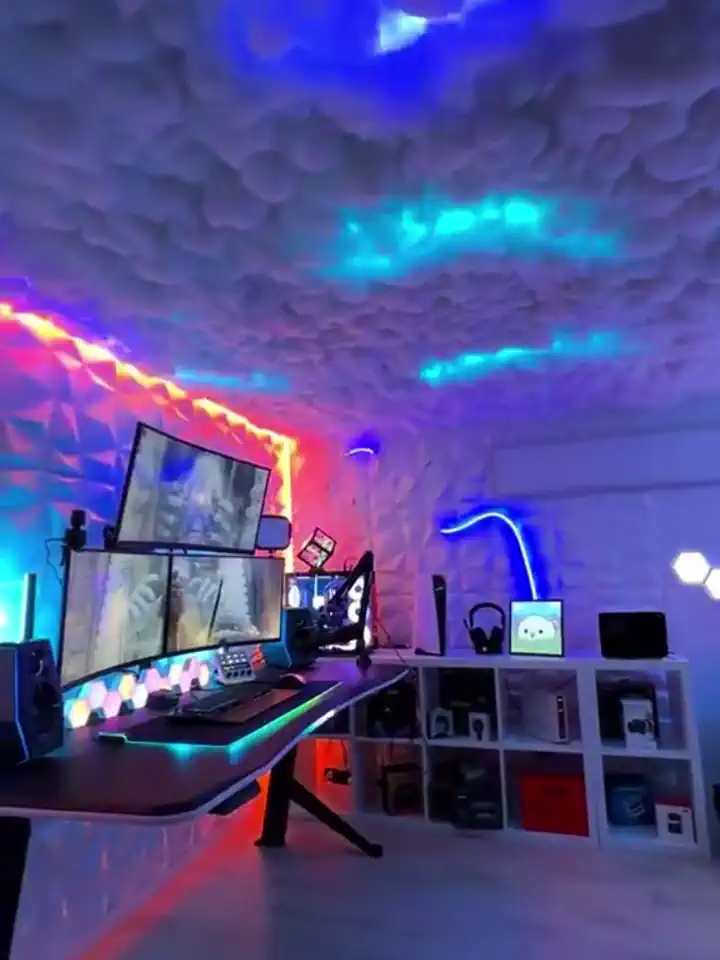 Dreaming up a fantasy game setting? Actualize it by:
Color Scheme: Use light, whimsical colors like sky blue, lavender, mint green and soft pink to evoke a magical feel.
Lighting Layout: Bring the sky indoors by crafting whimsical cloud shapes using cotton. Add color-changing LED strips along the edges of furnishings.
Decoration: Display fantasy-themed decor like dragon and unicorn statues, swords, and mystical wall art. Add sheer curtains.
Basement Game Room Ideas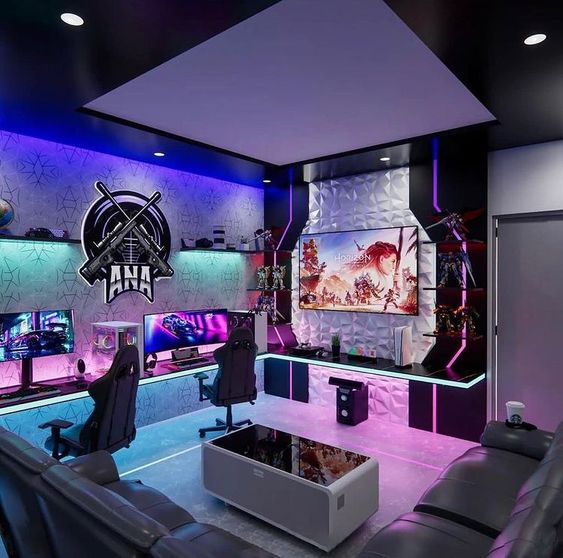 Transform your basement into the ultimate gamer's paradise with these expert tips:
Color Scheme: Since basements tend to be dark, embrace light colors like white, light gray, or blue to brighten up the space.
Lighting Layout: Add accent lighting like LED strips under shelves or desks for a cool glowing effect.
Furniture: Deck out the open layout with gaming desks, comfortable chairs, and entertainment systems. Built-in shelving offers display space for collectibles.
Big Screen Display: Install a large TV or projector screen to immerse yourself in the gaming world. Ensure proper positioning and consider adding surround sound speakers for an enhanced audio experience.
Decoration: Personalize with gaming posters, wall art, collectible figures, and memorabilia. Vinyl decals and neon signs add gamer flair.
Star Wars Gaming Room Designs
Epic Star Wars Themed Setup by spicymochi/Reddit
Feel the power of the Force surround you by immersing yourself in a Star Wars-inspired gaming sanctuary. With just a few easy steps:
Color Scheme: Use dark colors like black, gray, and brown to represent space. Accent with pops of red, blue, green, and purple to reflect lightsaber colors.
LED Channels: Outline shelving and desk edges with LED strips in rebel alliance red or imperial white for accent lighting.
Lighting Layout: Install backlit shelving and use LED strips on the back of monitors to create a spaceship console vibe.
Decoration: Display Star Wars collectibles, posters, wall art, and life-size props. Add Millennium Falcon or Death Star vinyl decals.
Space-Themed Game Room Setups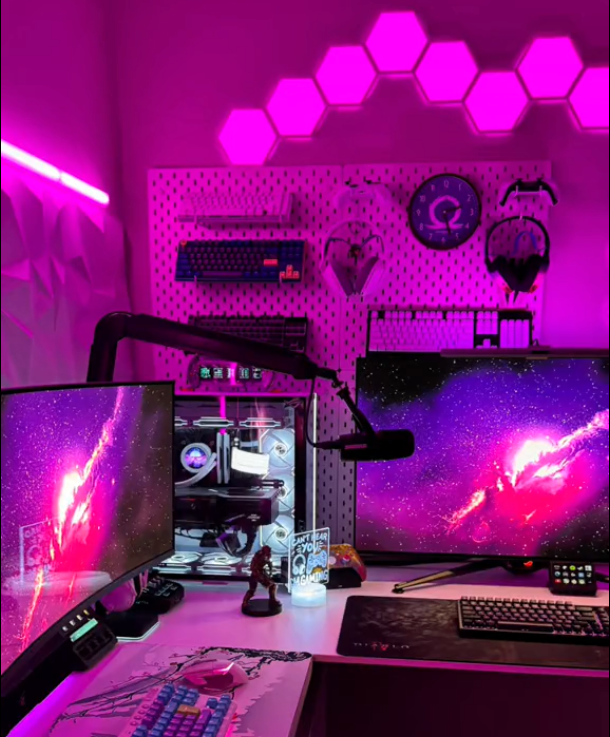 Are you ready to embark on an intergalactic adventure right in the comfort of your own home? Simply do this:
LED Channels: Install pink and purple LED strip lights along shelves, desks, and doorways to evoke cosmic nebulae.
Lighting Layout: Use a galaxy projector to cast swirling interstellar clouds across walls and ceilings.
Decoration: Display spaceship models, astronaut figurines, and NASA posters.
Minimalist Game Setup Ideas

A minimalist game room should be calm and uncluttered so you can focus on your gaming experience. Follow these tips to achieve a clean and streamlined look.
Color scheme: A minimalist approach usually includes neutral colors like white, black, and gray.
Furniture: A simple gaming desk, an ergonomic chair, and a minimalist shelf will provide the storage and functionality you need without cluttering your space.
Decoration: A few green plants on the shelf can add vitality and liveliness to your gaming space.
Pokémon-Themed Game Rooms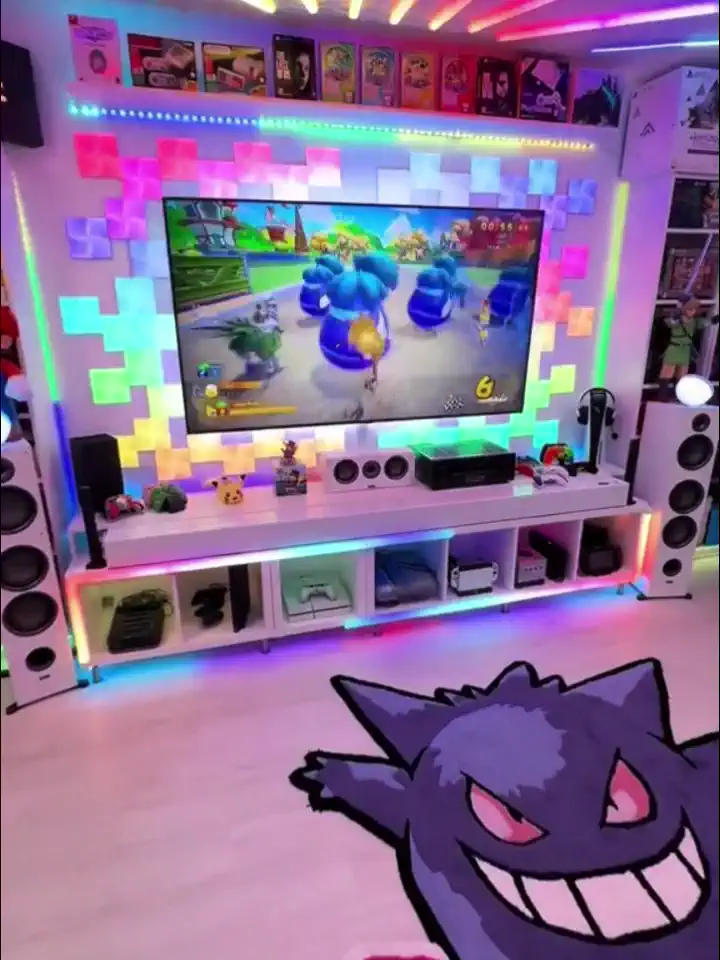 To create an exciting Pokémon-themed game room, you can try this:
Color Scheme: Embrace bright hues like red, blue, green and yellow to reflect the colors of Poké Balls and create an energetic vibe.
LED Channels: Outline shelving and desk edges with color-changing LED strips to mimic Pokémon battle effects and add futuristic flair.
Lighting Layout: Install a bright overhead light to keep the space well-lit for gaming. Add LED accent lighting on display shelves.
Decoration: Fill the space with Pokémon plushies, posters and wall decals. Use a Pokémon area rug and Poké Ball ottomans to enhance the theme.
Two-player Game Room Designs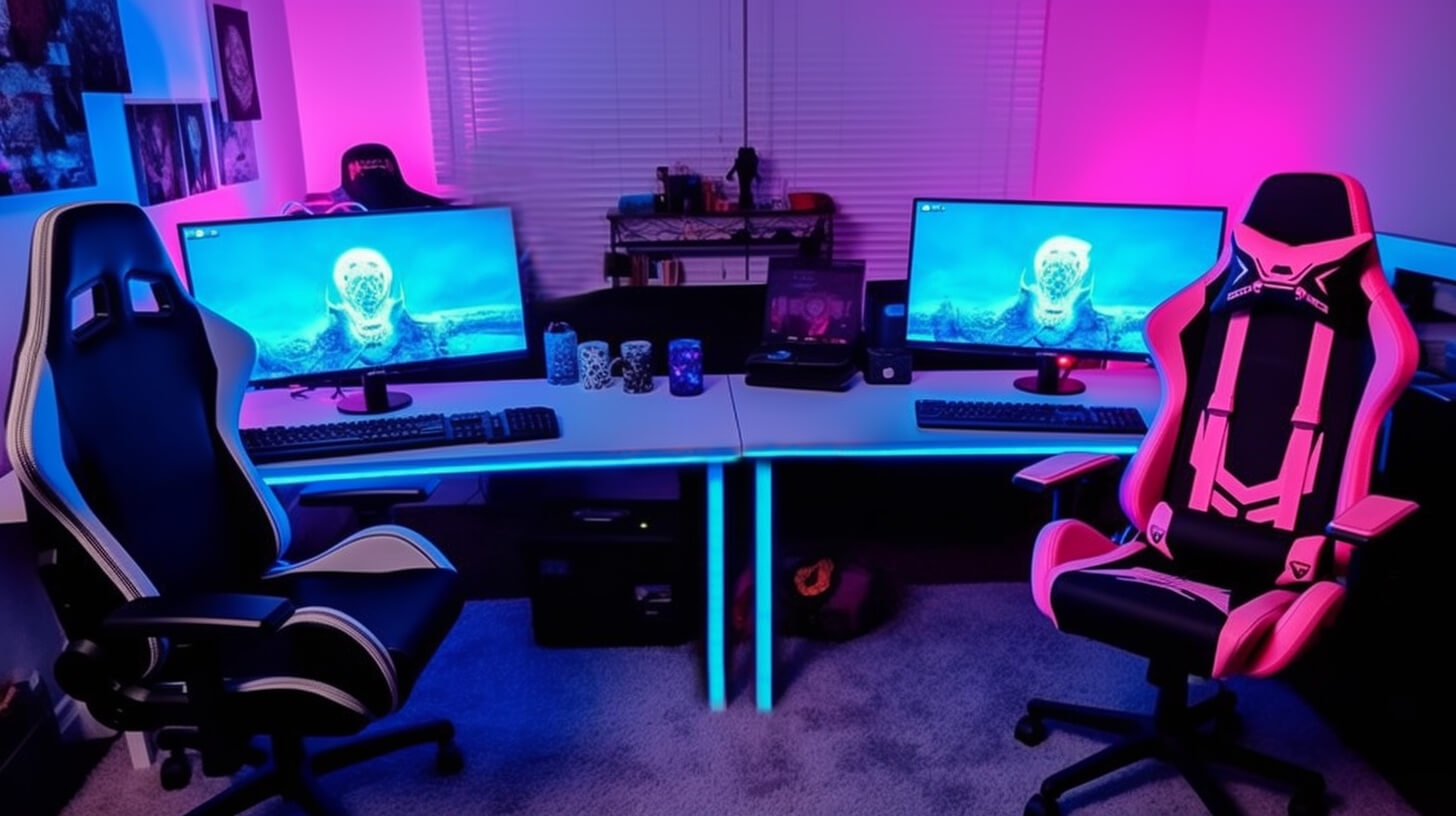 Looking for a fun way to spend time with someone? Set up a 2-player game room at home! It's easy and doesn't need much space. Here are some tips to get started:
Determine the layout: Consider the size and layout of your game room to determine the best location for the gaming setup. And make sure to leave enough space for both players to comfortably sit and play.

Choose the LED channel: The LED strips provides various colors, while the LED channels even the light and make it softer. Installing the light slot behind the table is a great option, and then choose a color or colors to complement your gaming equipment or the overall theme of your space.

Add accessories: Consider adding some accessories like posters, figurines, or other gaming memorabilia to the walls or shelves of the room to create a more immersive atmosphere.
Cute Gaming Setups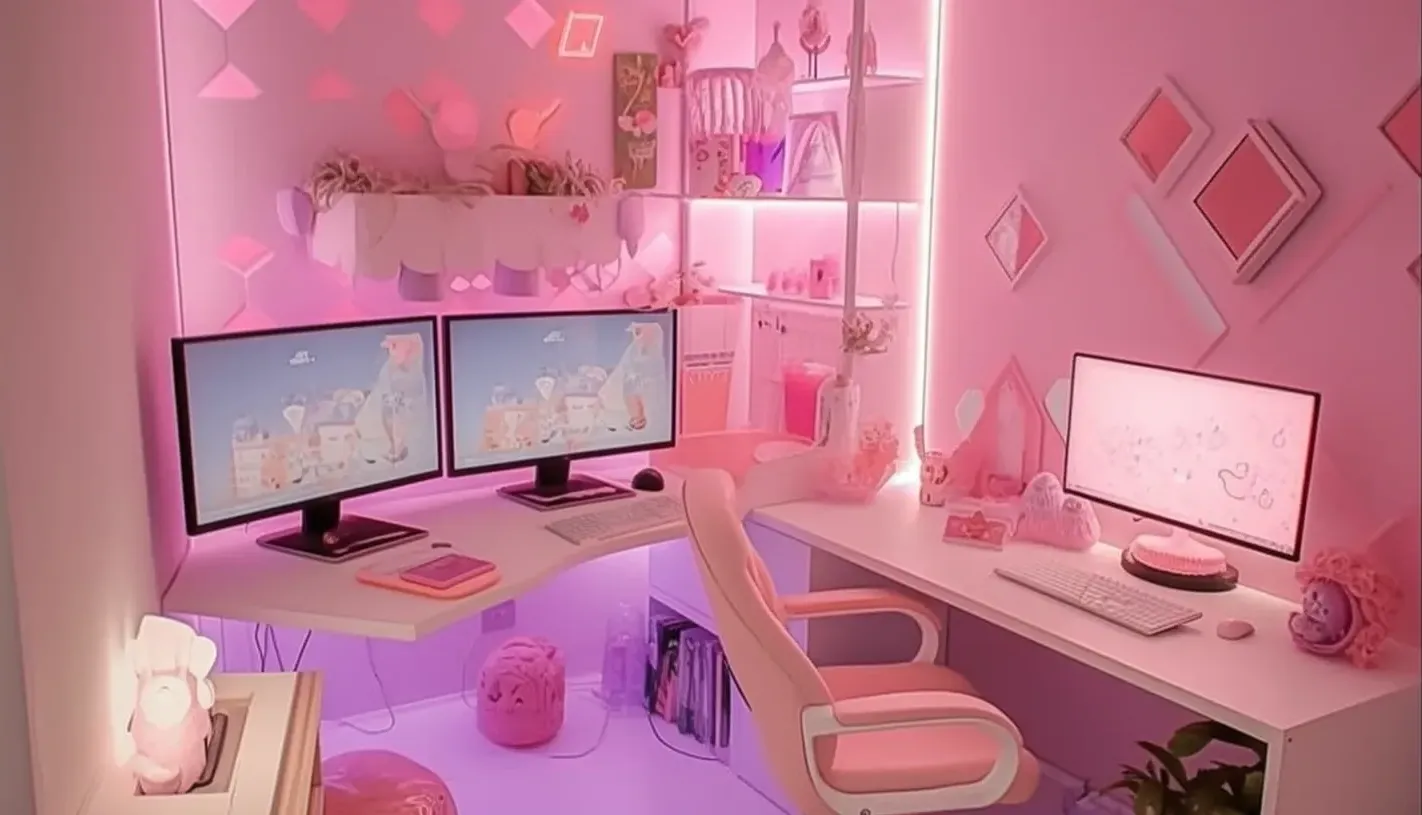 If you're a fan of cute and playful decor, why not create a game room that reflects your aesthetic? Here are some tips on building a cute game room:
Choose the right colors: Choose colors that complement the theme of the room. Pastel colors like pink, blue, and purple can create a cute and playful atmosphere.

Add cute decor: Decorate the room with cute accessories like plush toys, gaming figurines, posters, and artwork. You can also incorporate fun and playful patterns like polka dots, stripes, or hearts.

Determine lighting: Soft lighting can create a cozy and inviting feel. Consider combining a light strip with a LED channel to create a comfortable light.
Anime Gaming Room Setup Ideas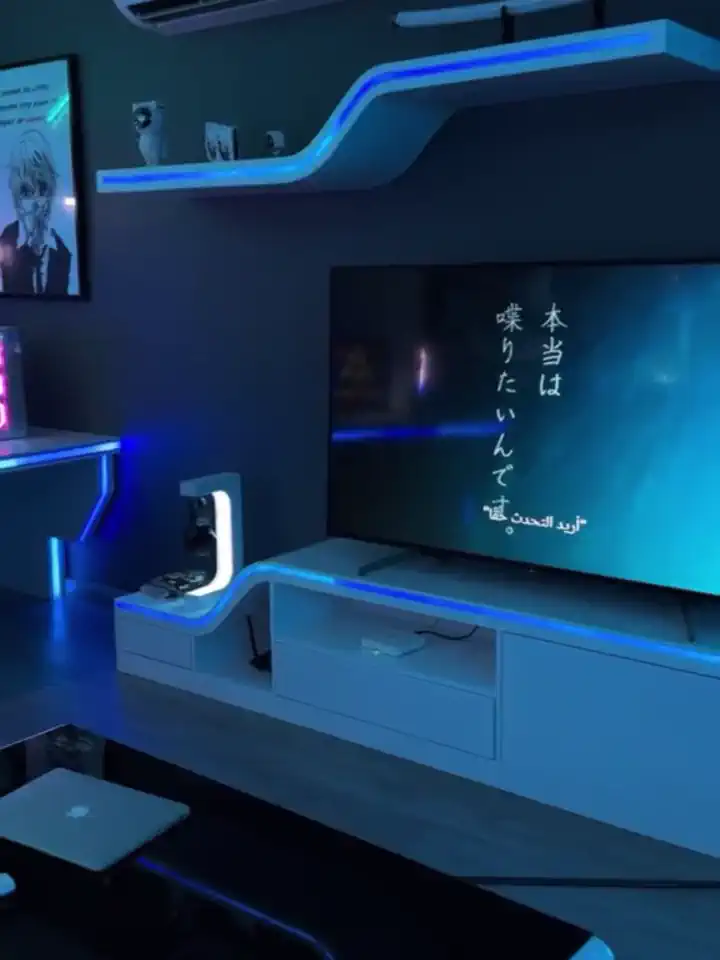 Looking to craft a gaming sanctuary infused with anime aesthetic? Here's how to design an anime-inspired gaming space:
Color Scheme: Use blue and green hues, like ocean and forest tones, to reflect colors seen in nature anime backdrops.
LED Channels: Outline shelving and desk edges with color-changing LED strips to create a fun, animated vibe.
Lighting Layout: Add ceiling track lighting to brightly illuminate display cases. Install LED strip lights under shelves.
Decoration: Fill shelves and displays with anime figurines, manga books, posters and merchandise to embrace the theme.
Retro Game Room Designs
Creating a retro gaming room can be a fun and exciting project. You can achieve it through:
Choose a theme: This could be based on a particular era or gaming console, such as the 80s, 90s, or the classic Nintendo Entertainment System.
Use Vibrant Neon Colors: Deck out your space with neon hues like electric pink, radical red, and outrageous orange. Neon recalls the gnarly vibes of retro arcades and 80s-90s gaming. Install colorful LED lights to make collections pop.
Add retro gaming decor: add some vintage gaming decor, such as posters, arcade machines, and retro gaming consoles. You can place your retro consoles on a shelf or a custom-built gaming station to create an authentic gaming environment.
Forest-inspired Playrooms
Bring the forest into your game life! Follow these steps to create a perfect environment for playing and relaxing:
Color scheme: Choose earthy tones like green or brown to create a forest-inspired theme. You can add texture to the walls with wallpaper or murals, or opt for a simpler design with neutral colors.
Lighting Layout: Use green LED strips to complement your forest theme. Or place them around the perimeter of the room or behind your playground equipment to create a soft, moody light.
Decoration: Incorporate natural elements into your playroom, such as potted plants, branches, and rocks. These elements can add depth and texture to the room, making it feel like a real forest.
Final Tips
We hope these gaming room designs have inspired you to create your own gaming oasis. What are your favorite game room ideas? Please share them in the comments below to get $5 COUPONS!
See Also:
Why Do Gamers Like LED Lights?
Comment