Choosing the Best LED Lights for Your Garage - What You Need to Know
Nov 09,2023 | Muzata LED Channel
We Need Light in Our Garage!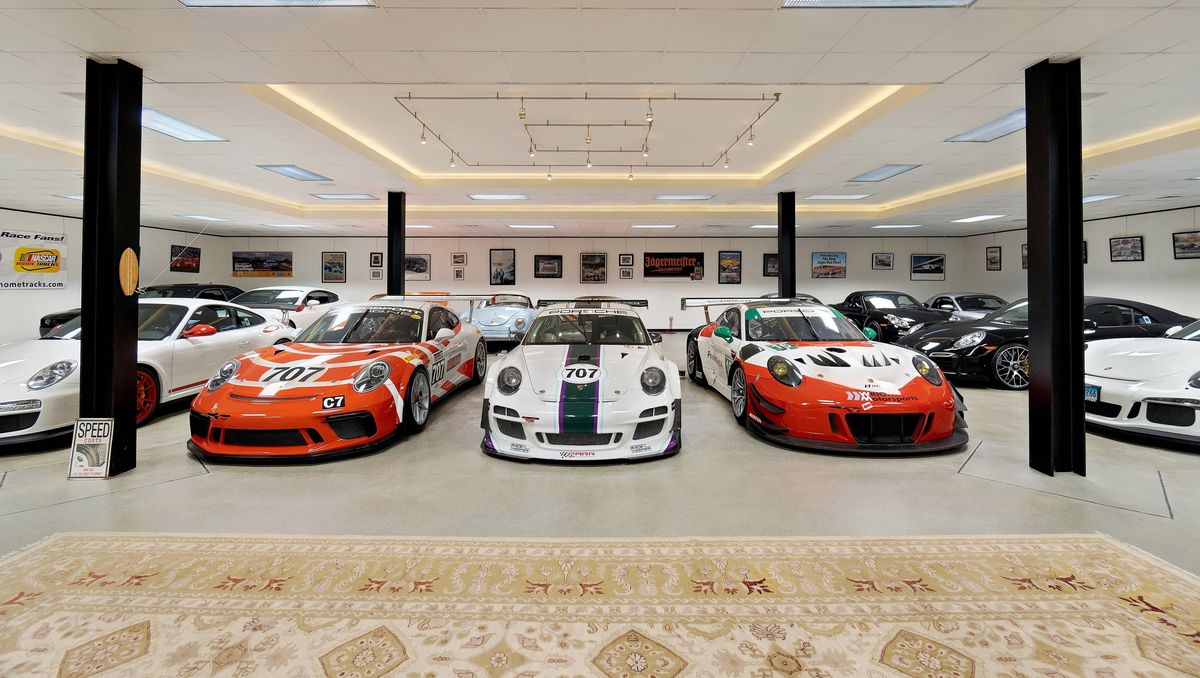 Obviously, proper lighting is crucial for all garage or workshop. Sufficient illumination makes your garage a safer and more pleasant space. Since its emergence, LED lights have gradually become one of the most popular choices for garage lighting, due to their energy efficiency, durability, and brightness compared to traditional incandescent and fluorescent bulbs. But with so many LED options on the market, how do you choose the perfect lights for your garage? This guide will walk you through how to select the most suitable LED garage lights.
Why LED Light is a Great Choice for Garage?
1. Energy Efficient
LED bulbs use up to 80% less electricity than incandescent bulbs. This saves a significant amount on utility bills over time. For example, a standard 60W incandescent light bulb running for 8 hours per day can consume around 175 kWh annually. Replacing it with a comparable 10W LED bulb under the same conditions only uses around 30 kWh per year. That's a nearly 85% reduction in energy consumption just by switching to an LED!
2 Bright Light
Proper lighting prevents eye strain and frustration when working on detailed garage tasks or trying to maintain organization. With LED lighting, you won't have to squint or struggle with dim old fluorescent and incandescent bulbs.
3. Cool Running
An incandescent bulb converts over 90% of its energy consumption into heat rather than visible light. All that excess heat builds up and gets emitted from the bulb, which can get hot enough to combust flammable materials if placed too close. Their open filaments are also prone to shattering and igniting things nearby.
What Types of LED Lights Suit Your Garage?
Flexible LED Strip Lights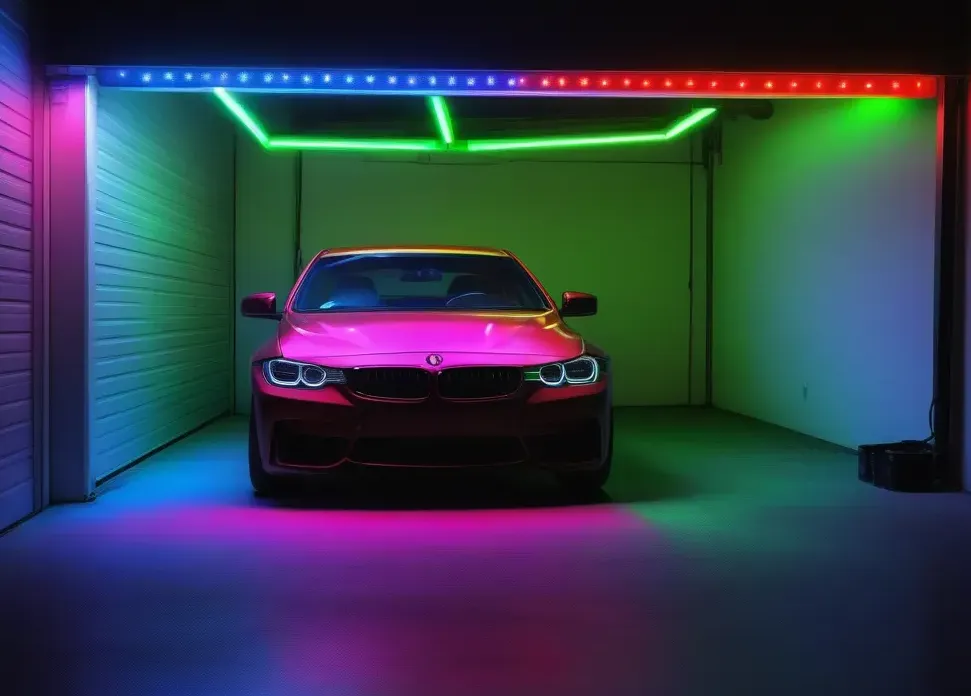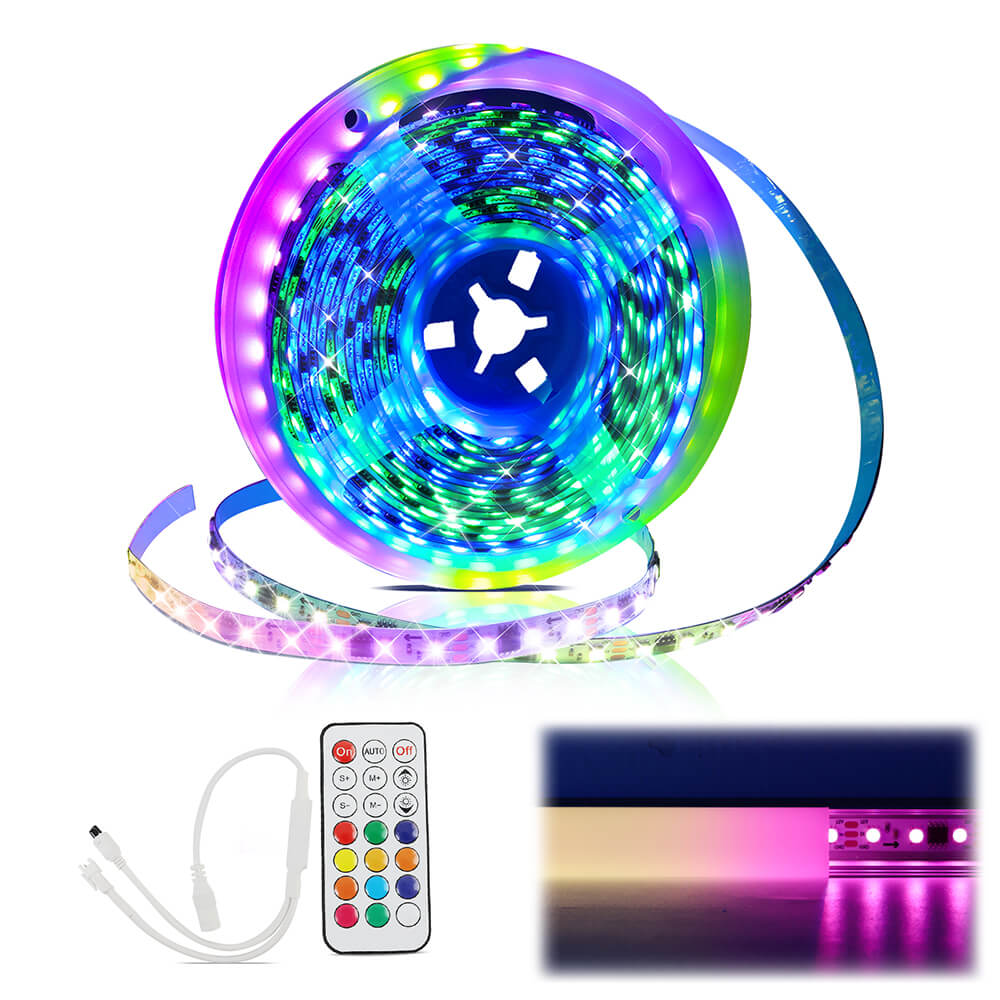 Flexible LED Strip Lights For Garage
Flexible LED strip lights offer a versatile and adaptable lighting solution for garages. Muzata 16.4Ft Flexible LED Strip Lights are a great option. For a spotless effect on walls, you can pair them with Muzata U108 LED channel. To achieve high ceiling lighting, Muzata U1SW LED channel is recommended.
---
Waterproof LED Strip Lights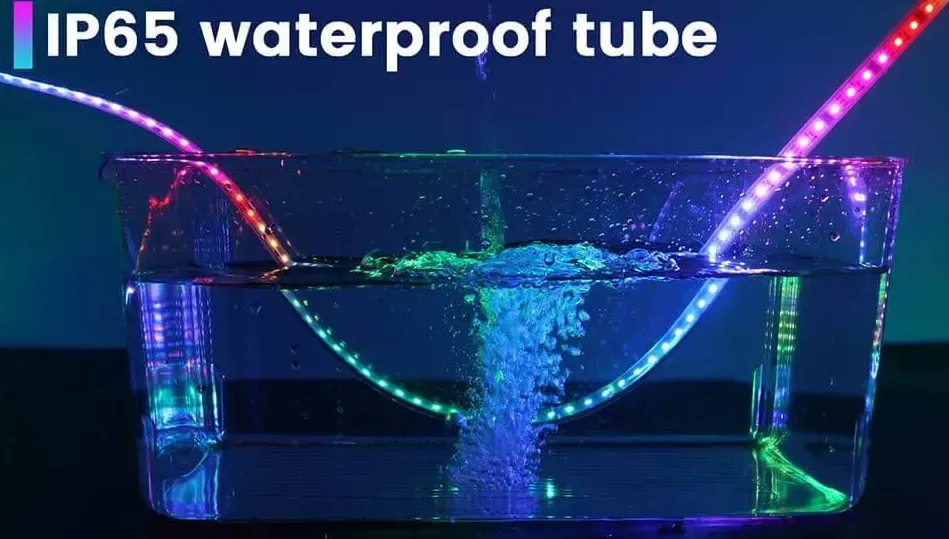 Waterproof LED Strip Lights For Garage
Using waterproof LED strip lights is a wise choice for garage lighting, considering the moisture, dust, and spills commonly found in that environment. Conventional LED strip lights can be damaged when exposed to liquids. Therefore, if you want reliable and durable lighting that can withstand the challenges your garage presents, Muzata 16.4Ft IP65 Waterproof LED Strip Lights are the clear choice.
---
COB LED Strip Lights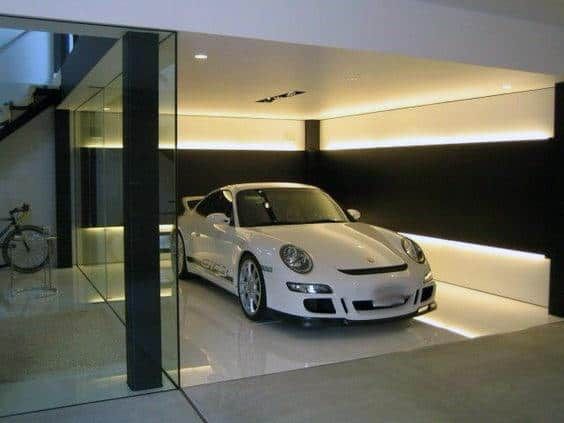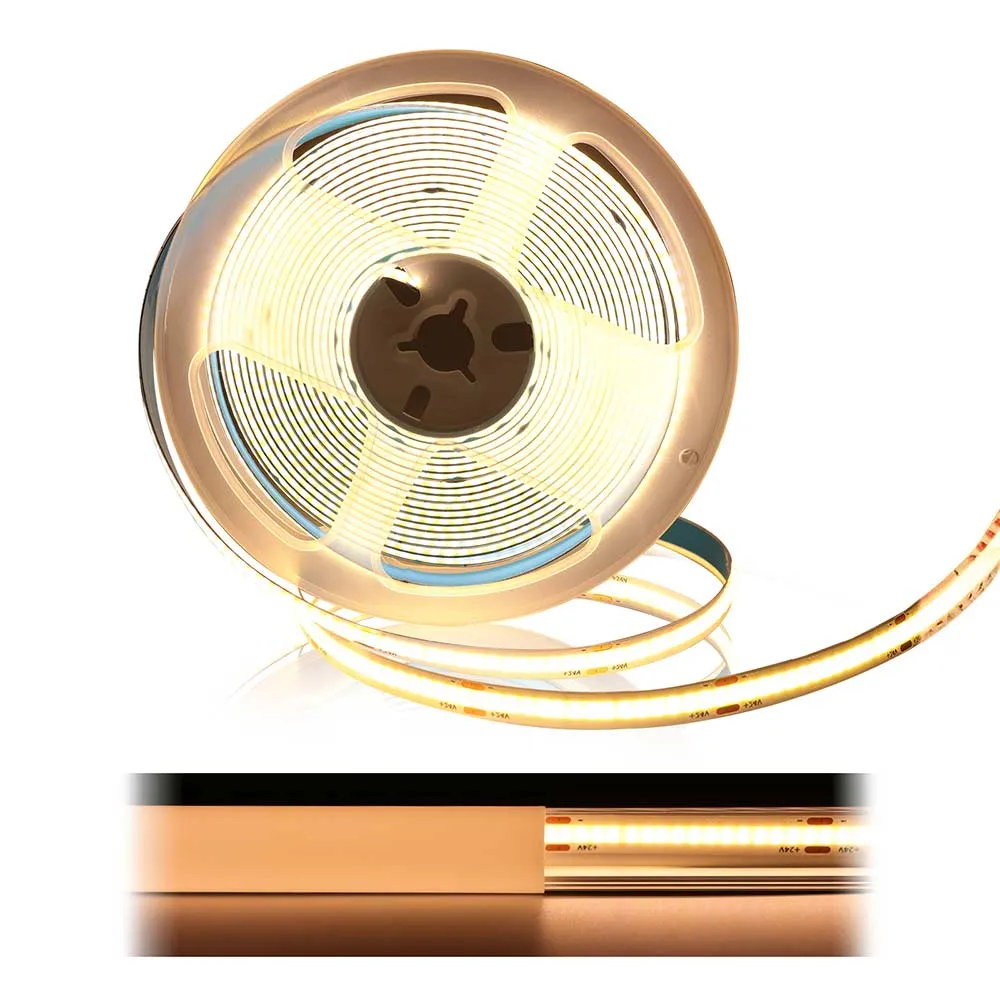 COB LED Strip Lights For Garage
COB LED strips provide extremely bright and uniform illumination that's perfect for tasks in the garage workspace. The dense chip-on-board design of COBs allows them to emit light that is far more consistent across the entire length of the strip. This eliminates annoying dark spots often found with other LED strips.
Which Kind of LED Channels Can be Choosed?
Spotless LED Channel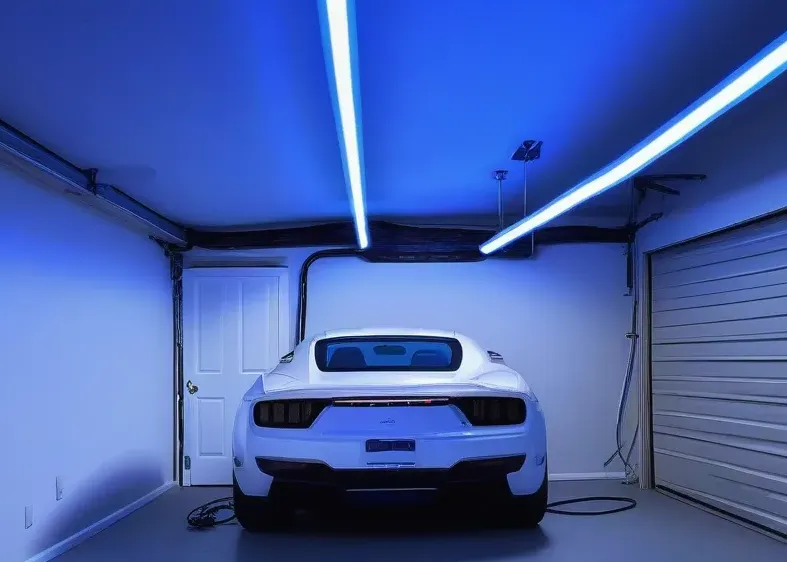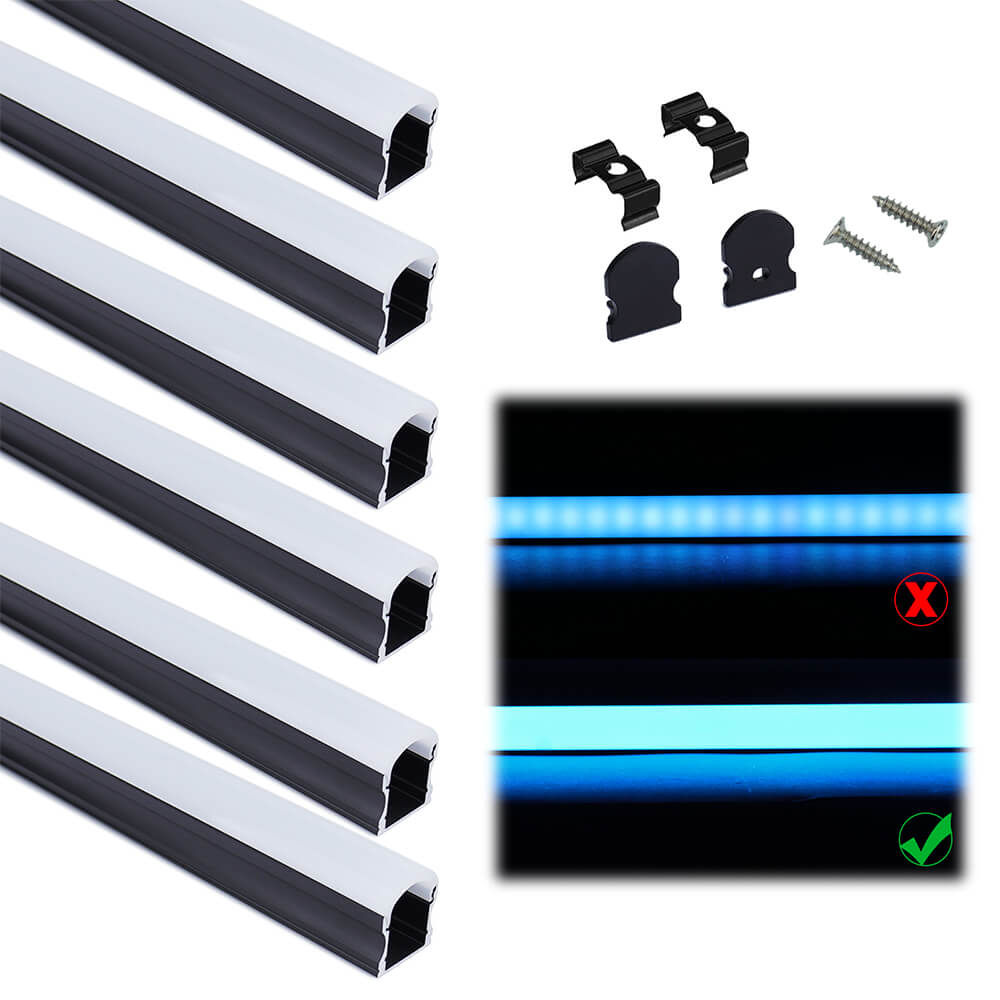 Spotless LED Channel For Garage
With spotless LED channel, your favourate LED strips light can produce uniform and even light in your garage, without one single spot!
The Muzata U108 LED channel system achieves spotless results when paired with LED strips of over 60LEDs/m, is suitable for LED strips less than 12mm wide, and produces a best diffused and high brightness effect when used with the Muzata AC1L.
Why You Should Get it: Provide Best Spotless Effect You've seen
---
Bendable LED Channel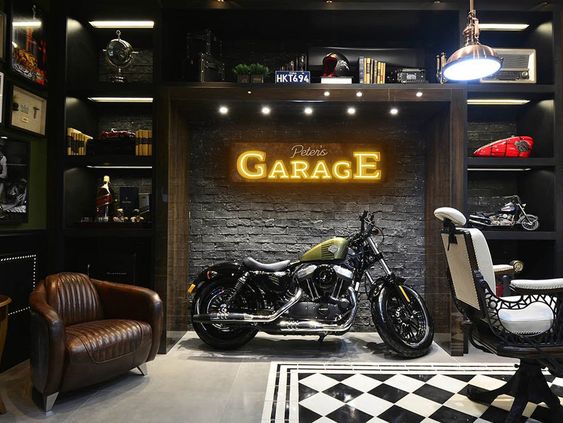 Bendable LED Channel For Garage
Looking to add a touch of customization to your garage lighting? Muzata 3.3FT flexible led channels have superior physical flexibility, which can be bent to a circle with about a 6" radius at an extreme. Its slim and bendable design enables it to make a creative and distinctive decoration style. It is a great option for slightly curved surfaces, such as a mirror, curved walls, etc.
Why You Should Get it: Bendable for special pattern
---
Silicone LED Channel
Silicone LED Channel For Garage
If you want to decorate your garage with some special luminous patterns or shapes, flexible LED strip lights are not enough, you need some silicone LED Channel. Muzata silicone LED channel is 100% made of silicone. It can be easily bent and cut to achieve various customized shapes, making it an ideal product for home decoration.
Why You Should Get it: Flexible & easy to cut
---
Suspended LED Channel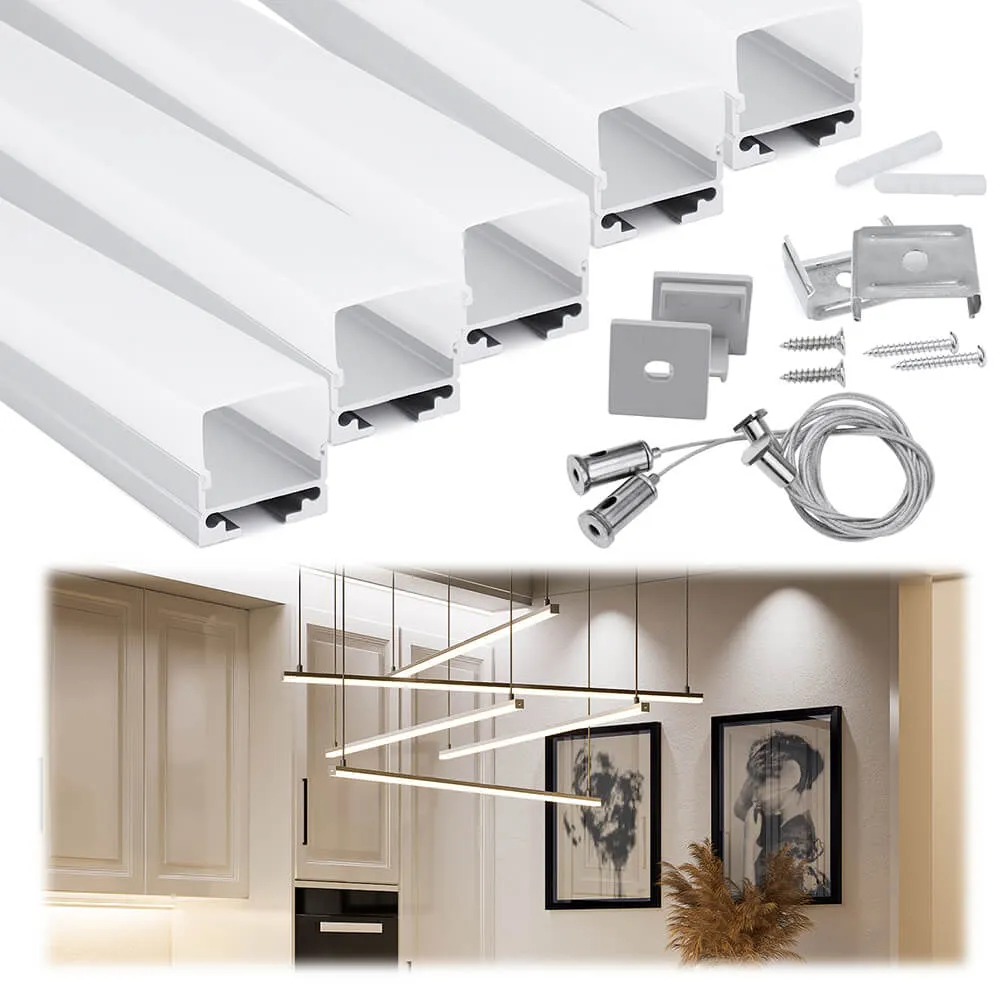 Suspended LED Channel For Garage
Consider using suspended LED channels for your garage lighting, as they offer several advantages. Unlike recessed channels, suspended LED channels have a lower profile, making them easier to replace and repair when needed. Muzata suspended LED channels provide spotless neon fluorescent lighting effect when working with our new Muzata AC1L/ AC1T/ SH3L LED strips.
Why You Should Get it:
1. Extra Heat Sink
2. Can Be Cut Down to Any Length
---
Recessed LED Channel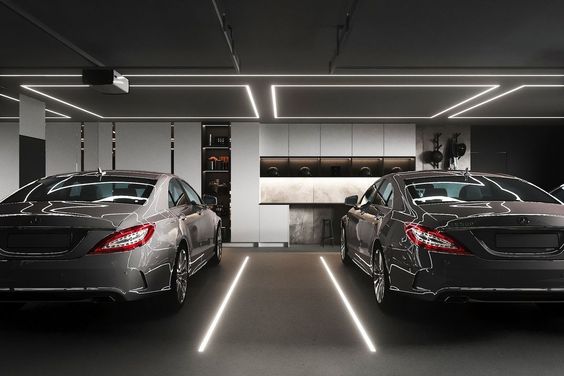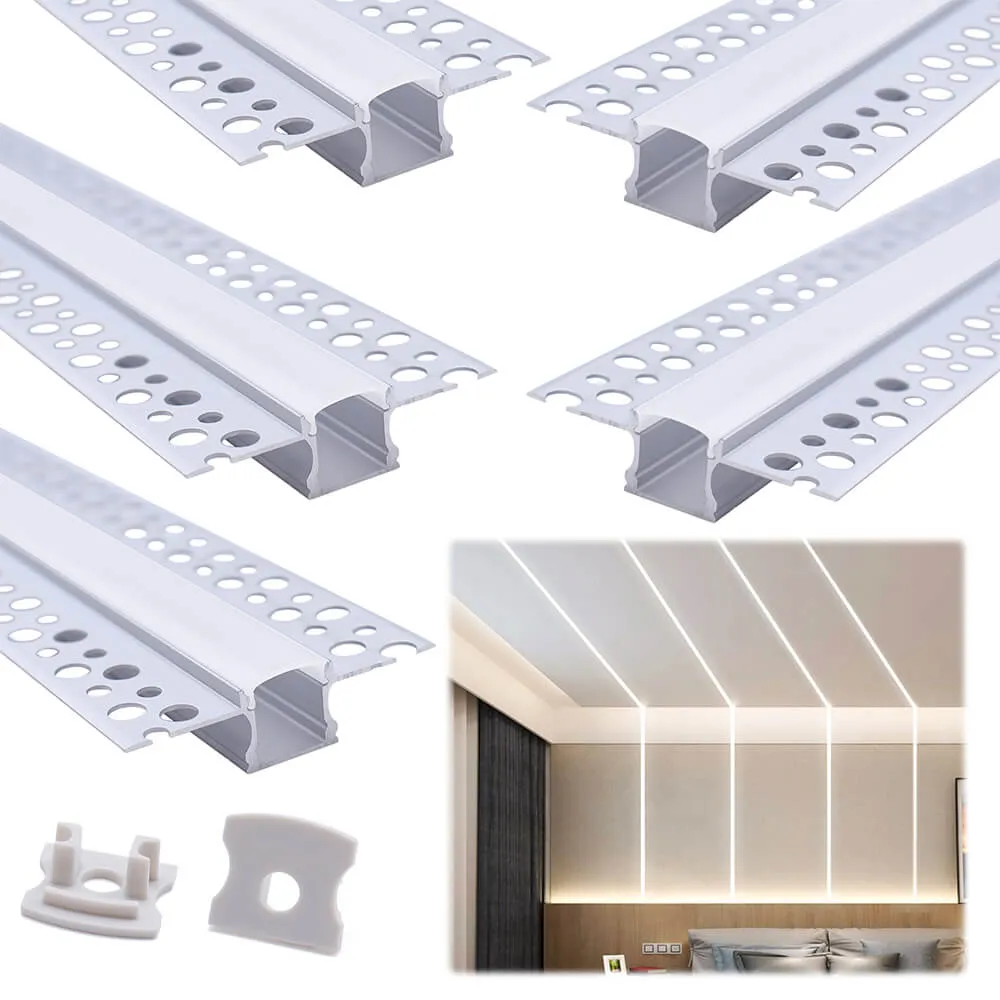 Recessed LED Channel For Garage
Or, you want to have more space in your garage, and pefer more stylish design? Recessed LED channel for definitely your choice!
Enhance your space with the Muzata 3.3ft recessed LED channel. Designed for ≤12mm wide LED strips, this channel offers modern recessed lighting solutions for kitchens and bedrooms.
Why You Should Get it: Space-saving Solution
What to Know About Garage Lightings Before Shopping?
Brightness and Temperature
If you want LED lights that provide adequate illumination that perfectly fits your garage. Brighter lights allow us to see details better, which also helps to avoid accidents by illuminating potential hazards clearly.
Watts
High wattage generally means better illumination, yet higher lumen output, which will consume more electricity over time. When you shop LED lights for your garage, you should consider your power needs and the size of the garage.
Installtion
Imagine when you install or replace your LED lights, convenience must be one of the merits. You can look for LEDs with plug-and-play designs that don't require rewiring or hard-to-obtain tools. This makes installations and future replacements simpler and happier. Choosing installation-friendly LED options up front saves headaches later during replace or remodels. Ease and safety of setup is important in a utility space like a garage.
Comment