LED Bathroom Lights Make Your Bathroom Lighting Shine Bright
Sep 25,2023 | Muzata LED Channel
Is your bathroom lighting ruining the morning experience?
Mornings are hard enough without having to squint under harsh bathroom lighting. But before we find a solution, let's review what bathroom lighting really needs:
Brightness so you can clearly see yourself in the bathroom mirrors while shaving at the bathroom vanity, brushing your teeth, etc. Visibility even late at night.
An ambiance that contributes to relaxation and rejuvenation, like a spa. Customize the color temperature for a soothing environment, not office-style harshness.
Safe to use on wet floors and around razors with no dark corners or shadows.
Flexibility to change brightness and color for different times of day and needs. Use bright white light in the morning when you're getting ready, and low-brightness night light in the middle of the night.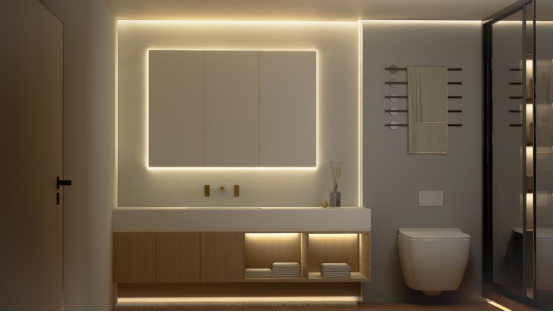 That's where LED strips come in:
▶ Energy saving: up to 80% less electricity than conventional lighting. More than 50,000 hours of life, so you don't have to replace bulbs as often.
▶ Flexible design: Can be cut to fit any space. Can be installed under cabinets for concealed or accent lights. Ultra-thin strips work even in small bathrooms.
▶ Adjudtable color and brightness: Control via app or voice. From crisp daylight to warm night light. Dim to eliminate glare.
▶ Dynamic Color: Multiple RGB color options for the perfect ambiance.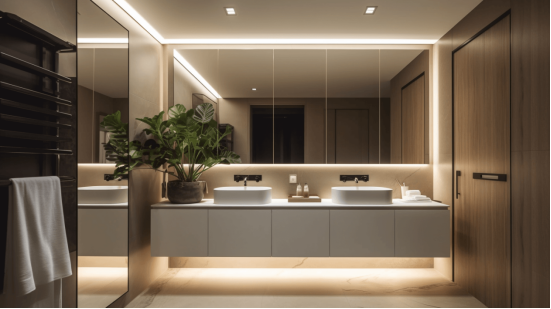 Here are some LED in-bathroom applications:
▷ Shower: Install color-changing LEDs in the ceiling or behind glass to create a spa-like atmosphere. Consider using waterproof strips.
▷ Around the Sink: Strip lights around the mirror for clear, shadow-free visibility.
▷ Bathroom cabinets and bathroom shelf: Add light strips for interior and under cabinet LED lighting to avoid fumbling in the dark.
▷ Floors: Path lighting and motion sensors add luxury and protection from late-night travel.
In short, LED strips are the bathroom lighting upgrade you've been looking for. With endless options and energy savings, you can transform your mornings and enjoy a brighter, more functional space.
Comment