What to Know Before Starting a Bedroom Plaster-In LED Channel Project
Sep 18,2023 | Muzata LED Channel
When it comes to creating a modern and stylish bedroom, lighting plays a crucial role. One of the innovative lighting solutions gaining popularity is the use of plaster-in LED channels. These recessed LED channels offer a seamless and aesthetically pleasing way to illuminate your bedroom. In this blog, we will explore the key considerations you should keep in mind before embarking on a plaster-in LED channel project for your bedroom.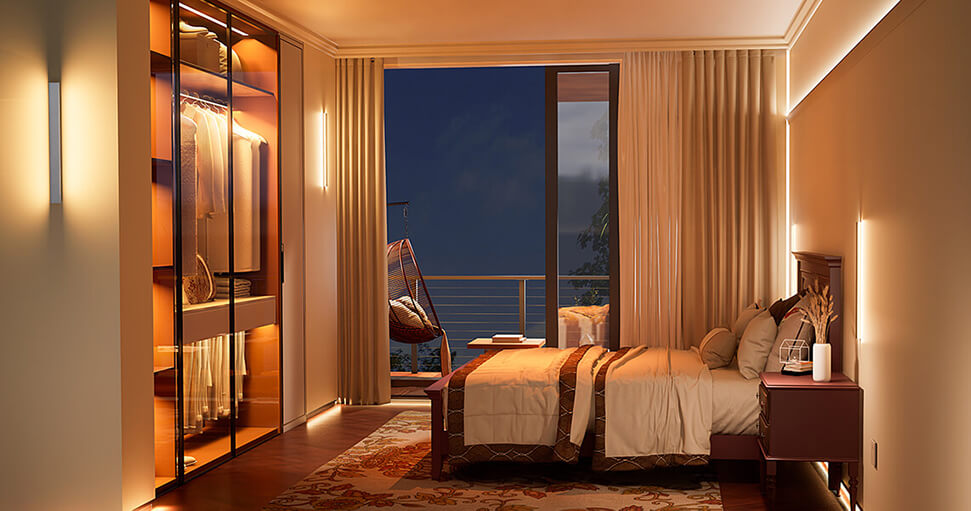 Design Goals
Before delving into the technical aspects, your design goals must be defined. What kind of atmosphere do you want to create in your bedroom? Is this a cozy, private space, or do you prefer a bright, open feel? Understanding your design goals will guide your choices in LED channel design, light color temperature and intensity.

1) Select the Plaster-In LED Channel Type and LED Light Strip
There are a variety of Plaster-In LED channel types to choose from, each with unique features and design. Consider the type of LED channel that will best suit the aesthetics of your bedroom. You can choose between recessed led channels mounted on the ceiling or LED channels integrated into the wall. The choice will depend on your design vision and practical considerations. In addition, you also need to consider the width and depth of the recessed lighting LED channel in bedroom you need, because this determines what width of LED light strip you need to use and achieve the spotless and no-spot effect of the light;
Again, choosing the right LED strips is crucial to achieving the lighting effect you desire. Consider the color temperature (warm, cool, or neutral) and brightness level (3000K) of your LED strips in bedroom. COB LED Strip is usually preferred for bedrooms as it creates a comfortable and warm atmosphere. Also, pay attention to the color rendering index (CRI) to ensure colors appear natural and vibrant under LED lighting.
2) Lighting Arrangement and Light Adjustment
Plan the location of your plaster in LED channels ahead of time to ensure even and effective lighting coverage. You want to avoid dark spots or harsh shadows in your bedroom. Consider factors such as room size, ceiling height, and any specific areas you want to highlight, such as artwork or architectural features.
Modern recessed lighting in bedrooms often includes versatile dimming options. Plan a dimming system that allows you to adjust light intensity to suit various activities, such as reading, relaxing or getting dressed. You can choose between a traditional wall dimmer switch or a smart lighting control system that offers remote and voice control options.
3) Installation and Detection Effects
The installation of Muzata's plaster in LED channels is simple and can be operated according to the installation instructions provided by us. If you encounter any problems, please contact our professional customer service at any time. Correct installation will ensure seamless integration into your bedroom design. When you're ready, you can show off your results. Adjust the color and brightness of the light according to your needs.
Finally, consider the aesthetics of the LED channel and its impact on the overall bedroom design. Some plaster in LED channels come with diffusers or covers that enhance the lighting effect and create a smoother appearance. Explore design options that complement your bedroom decor.
Notes:
The selection of plaster in LED channels and LED light strips must consider their width to better match each other;
Make sure the bedroom's electrical system can support the additional load of the LED channel. Avoid excessive voltage, causing the system to fail to work properly;
In order to better display the modern recessed lighting project, you can consult Muzata's professional customer service to provide you with a comprehensive set of services;
Conclusion
Starting a plaster in LED channel project for your bedroom can change the mood and functionality of your space. By carefully considering the above factors, from design goals and lighting layout to LED strips and channels selection and installation, you can ensure a successful and visually appealing result. Modern recessed lighting in bedrooms offers endless possibilities for creating a cozy and stylish sanctuary. So go ahead and brighten your bedroom with beautiful and functional plaster in LED channels.
Comment