Festive Lighting: Creative Christmas Neon Signs & Holiday Light Ideas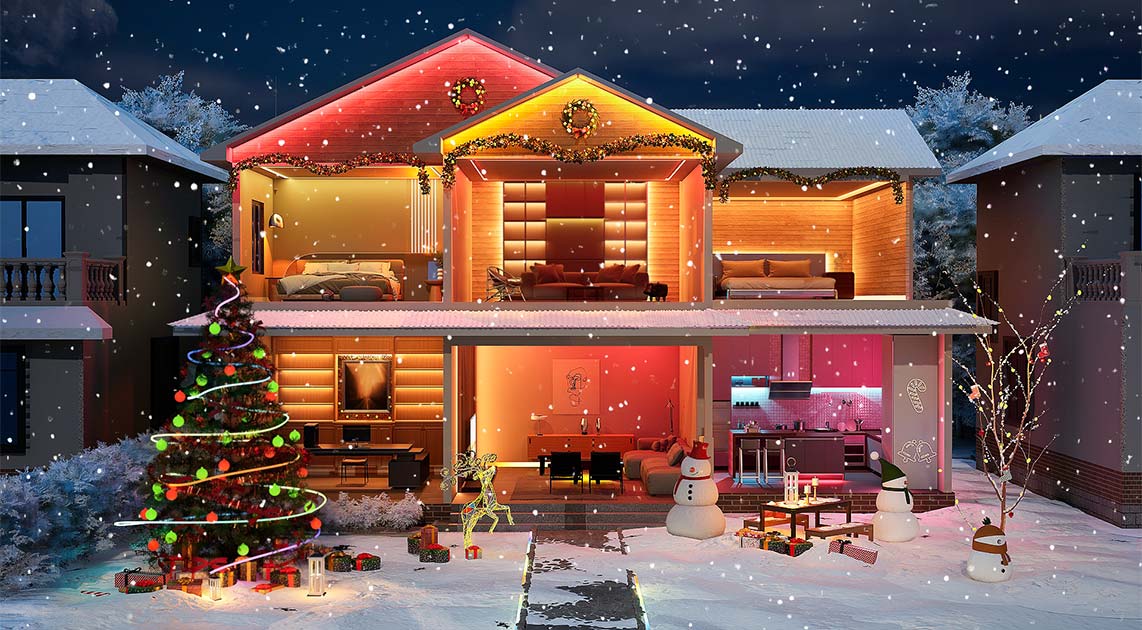 The holidays are right around the corner, which means it's time to start decorating with festive flair! Christmas lights are a classic way to infuse your home with yuletide spirit. But why settle for the same old string lights when you could create a show stopping display? This year, go bold and creative with innovative Christmas lighting ideas that will make your home the envy of the neighborhood. In this blog, we'll explore unique lighting options to take your holiday decor to the next level.
Creative Christmas Neon Signs:
Neon signs are having a major moment and add modern flair to Christmas decor. Personalized neon signs featuring festive sayings, quotes, or images are guaranteed to grab attention. A "Merry Christmas" sign in cursive script or a neon reindeer silhouette makes a bold statement. Muzata offers custom LED neon signs that allow you to bring any holiday vision to light! Our signs come in all shapes and sizes to fit your space. Try neon snowflakes, Christmas trees, stockings, snowmen, and more for a pop of festive color. Place neon signs in entryways, above the mantel, or on the lawn for maximum cheer spreading. You can even get the kids involved and create DIY neon signs for a homemade touch with care.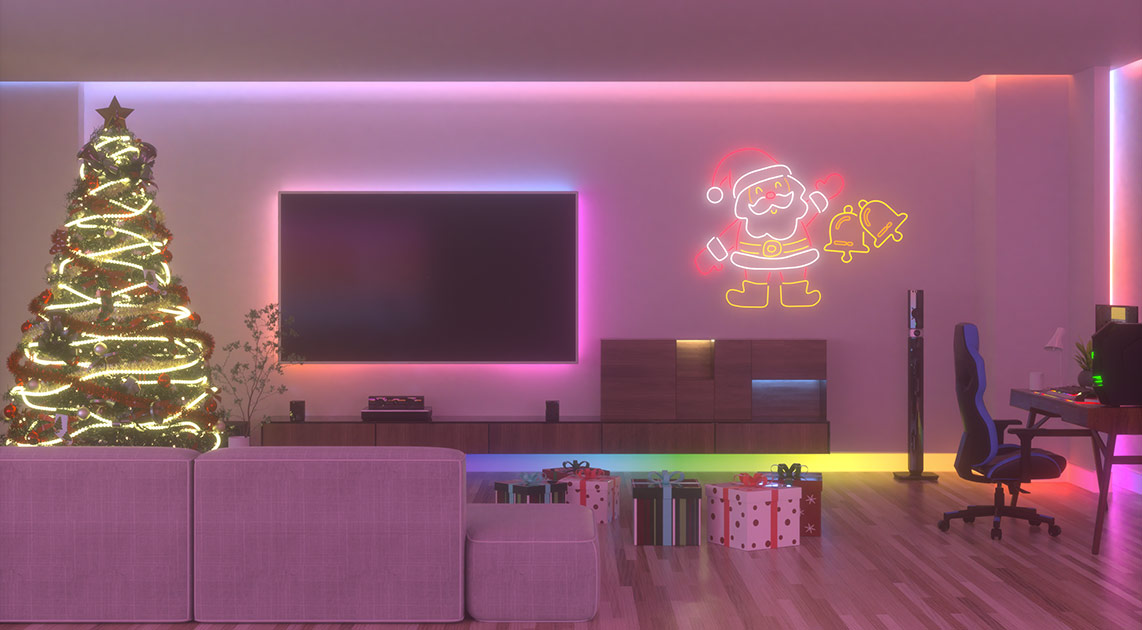 Take your lighting display to the next level with customizable RGB lights. Using the smart remote, you can program dazzling, synchronized light shows set to your favorite Christmas tunes. Festive patterns and color-changing effects create a high-tech holiday wonderland. RGB spotlights are perfect for highlighting trees, bushes, and architectural features. Outline rooflines, fences, or windows with RGB strips or nets for an eye-catching display. Muzata's LED RGB flexible neon strips are ultra-bright and easy to shape into different designs. Use them to illuminate wreaths, trees, railings, and more! You can get really creative with shapes too - RGB lights can be configured into stars, trees, snowflakes, and other holiday shapes. The possibilities are endless!
Festive Outdoor Christmas Lighting:
Why limit your dazzling light display to just indoors? This season, bring some extra sparkle to your outdoor space with festive lighting ideas. Outline trees and bushes with bright LED string lights for some extra twinkle. Line your driveway or sidewalk with stainless steel lanterns for a sophisticated glow. Hang festive wreaths on exterior doors and illuminated garland around porch railings. Place bright poinsettia flowers on your patio or line walkways with luminaries. You can also line rooflines with icicle lights or laser project snowflakes onto exterior walls. For the ultimate display, use RGB lights to illuminate an entire house facade in shifting colors! Synchronize your outdoor lights to music for an even bolder statement. Your neighbors will be sure to smile at the added holiday magic.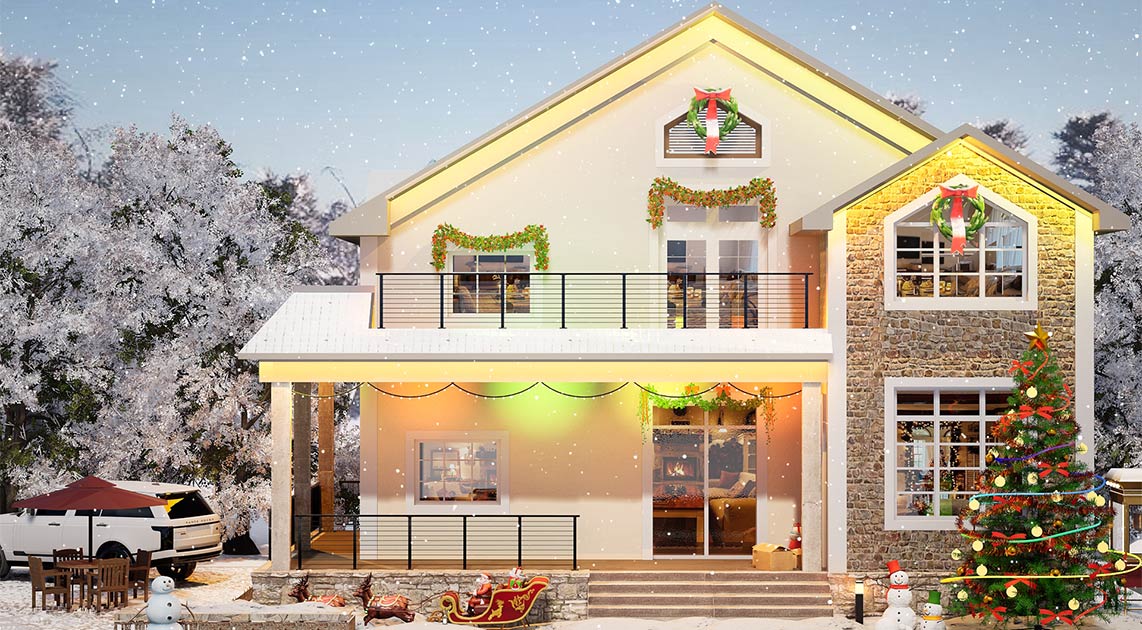 Christmas Light Decorating Tips:
To pull together a showstopping Christmas light display, follow these handy decorating tips: Plan out your design on paper first to visualize placements and get creative ideas flowing. Invest in quality commercial-grade lights for maximum brightness and longevity. For lining roofs and gutters, use clips to neatly secure lights in place. When stringing lights on trees, work from top to bottom for easy shaping. Set lights on a timer to automatically turn on at dusk for added convenience. Check for burned out bulbs periodically and replace immediately so your display maintains full glow. Finally, safety first! Ensure cords and connections are secure and use plastic clips to affix wires. With thoughtful planning and strategic decorating, your home will shine bright with holiday cheer that makes spirits bright!
Why Choose LED Neon lights?
Easy to install: Muzata silicone led channels are mounted on high quality acrylic backing and are easy to hang. The package comes with mounting accessories for easy hanging and wall mounting.
Low maintenance: Muzata LEDs are made from high-quality materials that are highly wear-resistant and easy to clean.
Lightweight: Our neon LEDs flex are lightweight and portable, making them easy to carry. You can take it off and reuse it on different occasions, making it a beautiful decoration for your home, events, weddings, parties and more.
Energy efficient: Our neon signs use low energy and have a service life of over 50,000 hours. They are environmentally friendly, efficient and have a long service life.
Full control: The remote has an on/off switch and 10 brightness settings. Neon lights can be set to flash at an adjustable speed.
Conclusion:
This year, go above and beyond with creative Christmas lighting ideas that make the season shine brighter. Adorn your home with festive neon signs, harness the magic of RGB, or explore inventive DIY options for a custom display. Muzata's high-quality LED lighting solutions make it easy to execute holiday lighting ideas with brilliant results. So why settle for the same old thing? Dazzle your neighborhood and spread maximum seasonal cheer with innovative lighting designs that reflect your personal style. Deck those halls, line the driveway, and wrap the trees to create a holiday wonderland others will envy. Let us know your most creative lighting ideas and how you Illuminate Your Holidays in the comments below! Wishing you a very bright Christmas from all of us at Muzata. Let's glow!
Comment