The Go-To Choice For Immersive Journey Behind Your Display/TV With Muzata LED System
Aug 21,2023 | Muzata LED Channel
The future of immersive storytelling has arrived🌈
Tired of the same old, flat background displays? Get ready for immersive display backdrops with LED channels with diffused light effects behind them to immerse the viewer in the experience.
Imagine: "dazzling LED walls perfectly synchronized with vivid lighting effects. An immersive visual experience like no other. This innovation transforms a static, dull background into an absolutely thrilling display backdrop."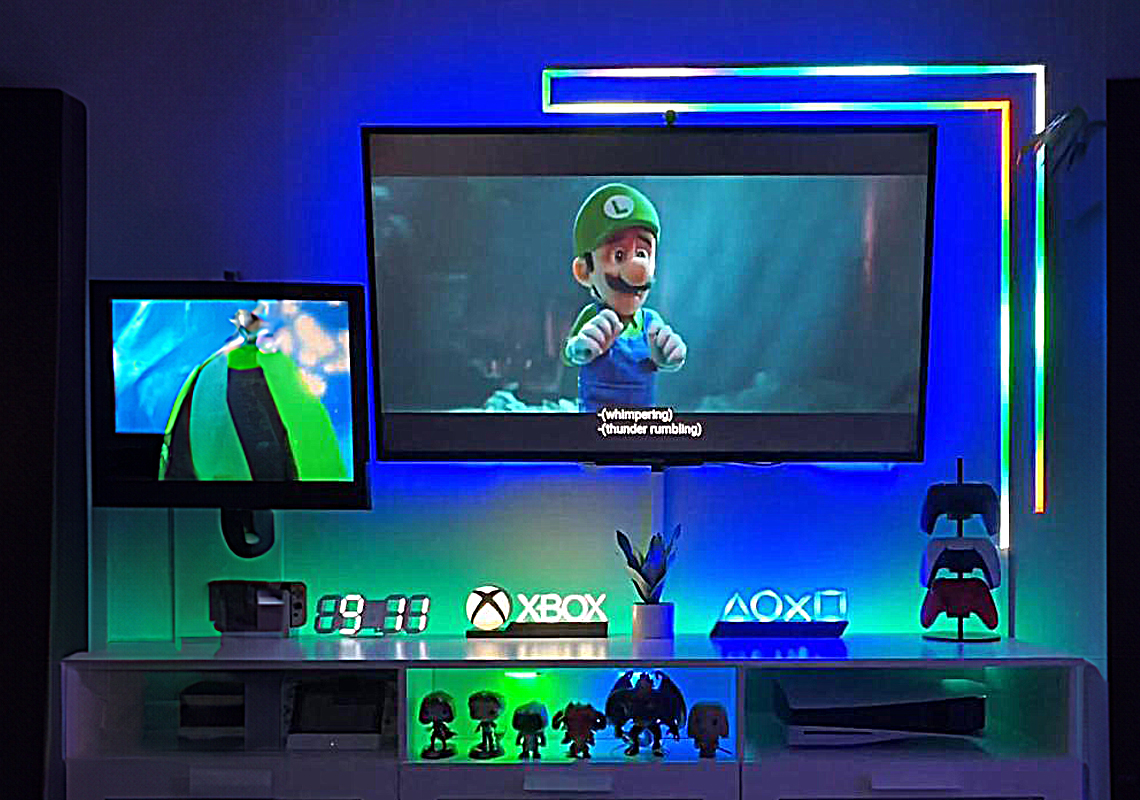 Monotonous & Outdated🤷🏻‍♂️
Traditional backdrops are outdated. Flat, static surfaces limit the visual scope and audience engagement. Backdrops decorated with materials such as wood, paper, and vinyl can only support static images, and with basic lighting, they create monotonous, one-dimensional displays that don't fully engage the viewer
Go Beyond the Screen✨
The Muzata Led system breaks the mold with stunning visuals and rhythms that switch seamlessly with music and scenes synchronized like a movie.
Imagine futuristic cityscapes, explosions of light and color - all of which respond dynamically in real-time, transporting viewers into a world of vibrancy and possibilities that captivate the audience.
Visionary Tech for Displays💡
You'll be blown away by the unparalleled clarity and detail that's light years ahead of outdated background effects. Immerse yourself in crystal clear LED displays where every inch of the picture comes alive.
Dynamic, customizable lighting takes display backgrounds to the next level. Adjust sleek, modern spotlights. Simulate multiple scenes. Change the color palette - at the click of a button. Lighting effects match the mood and rhythm of the music and graphics
Seamless transitions between scenes and animations guide viewers on an unforgettable journey. Cinematic scene changes and immersive special effects are possible. Each transition transports the audience to an exciting new world. They won't believe their eyes.
Want to create such an immersive backdrop of your own after reading this far? then kate suggests that a U-shaped channel would be a good choice. (@Kate's Choice: Muzata U-Shaped U103 )
"Check out these neat led channels that @muzata_official sent me. If you're looking for some new lighting products for your living room or setup, check them out! They've got some great back to school deals going on right now too as well."
----From Kate
Kate was looking to upgrade her display backdrop in an immersive, compelling way. After discussing her vision, we suggested trying Muzata's U-shaped LED channel to create a vivid LED wall. Let's enjoy it together.🙌🙌🙌
Video Showcase↓↓↓↓↓
Movies and the game comes to life with perfect perspective and excellent color rendering. The LED system also provides customizable colors, lighting effects, and seamless transitions. This combination exceeds expectations. kate can fully immerse herself in the atmosphere and story of each movie or game.🤓
Now, let's take a look at Kate's fans' reactions...
Although she is just one of many creators, gamers, artists, and businesses that are utilizing vivid LED display walls to explore the potential of their displays. These immersive Led systems entrance viewers, transporting them to exciting new worlds. Curious to learn more about achieving captivating visual effects, dynamic lighting, and seamless scene transitions? Contact us today to get started with immersive Led light and make this immersive experience yours!🎉
Comment