LED Ceiling Lighting: The Ideas You've Been Waiting For
Oct 23,2023 | Muzata LED Channel
Thinking of installing new lighting on your ceiling? LED technology has opened up tons of options for creative and energy-efficient ceiling lighting design. In this comprehensive guide, we'll explore how to install LED lights on your ceiling and create stunning lighting art using LED strips and channels. Whether you're looking to enhance your bedroom ceiling or transform any other area of your home, we've got you covered.
What are LED Strips and Channels?
LED strips are flexible circuit boards with small LED bulbs lined up along their length. These versatile lighting solutions come in rolls of various lengths, such as 5m, 10m, or even 20m, allowing for easy customization and installation. LED channels, on the other hand, are housing units made of silicone or aluminum that provide a sleek and professional way to mount LED strips on your ceiling.
Benefits of Using LED Strips and Channels
There are numerous advantages to using LED strips and channels for your ceiling lighting:
LED strips offer endless possibilities for creative patterns and contours. They can be easily bent and curved to fit any shape, while LED channels come in various shapes like rectangles, squares, or rounds, allowing for even more design flexibility.
Brightness Control: LED strips come with different LED densities and brightness levels. Choosing higher density strips will bathe your ceiling in vibrant light, creating a captivating ambiance.
LED strips are available in various color options, including cool whites, warm whites, and RGB strips that can display any color of your choice. This versatility allows you to set different moods and create unique lighting effects for different occasions.
LED strips are highly energy-efficient, consuming up to 80% less energy than traditional incandescent bulbs. By using LED lighting, you not only save money on your electricity bills but also contribute to a greener environment.
Durability: LED strips have an impressive lifespan, often lasting over 50,000 hours. This means you can enjoy long-lasting illumination without the hassle of frequently replacing burnt-out bulbs.
Installing LED strips is a breeze, thanks to their self-adhesive backing. Simply peel off the backing and stick the strips onto your ceiling. No complicated wiring is required, making the installation process quick and hassle-free.
Choosing the Right Products
When selecting LED strips and channels for your ceiling lighting project, it's essential to consider factors such as output, density, color temperature, beam angle, and IP rating. These considerations will ensure that you choose the optimal products that meet your specific requirements.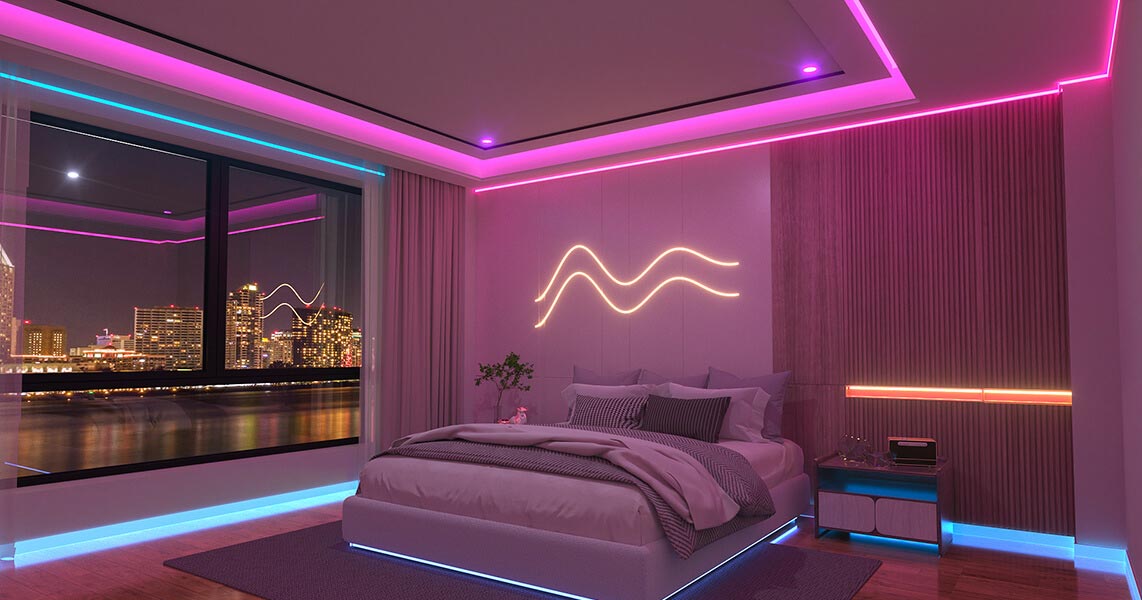 Once you've selected the right LED strips and channels, it's time to unleash your creativity and design your stunning LED ceiling lighting. Here are some popular design options to consider:
Recessed Lighting Design
Create recessed coves in your ceiling to install LED channels. Vary the shape and size of the coves, such as squares or rounds, for added visual interest. Angle the channels to point light upwards, resulting in a soft and inviting glow. For a seamless look, paint the channels to match your ceiling color.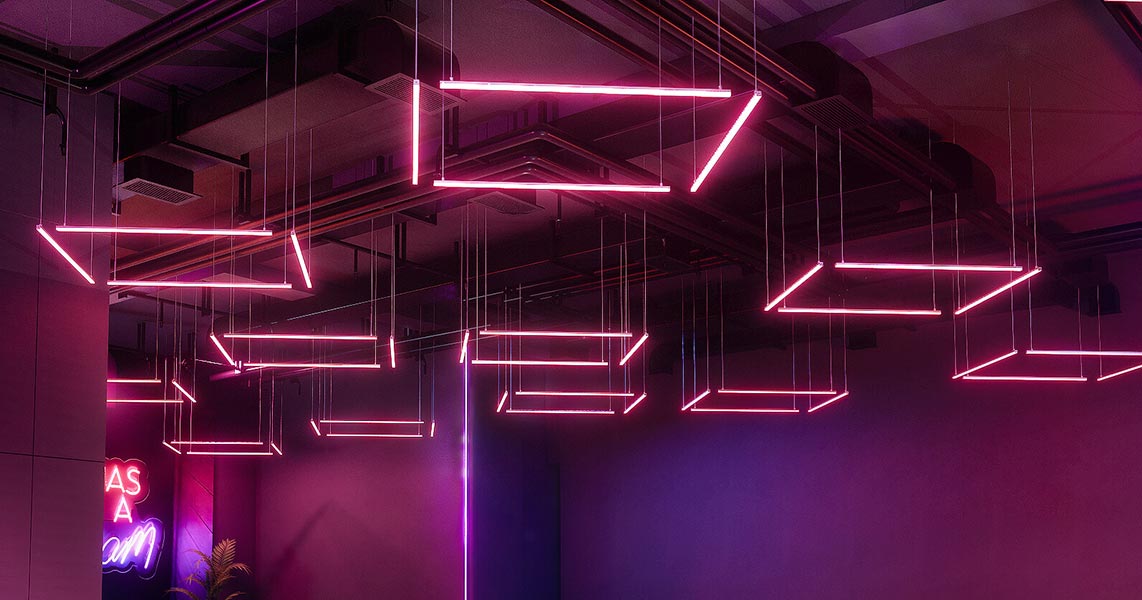 Suspended Lighting Design
Hang LED channels from the ceiling using wires, cables, or chains at desired heights. Attach suspension materials to anchors installed into the ceiling. To achieve a clean and polished look, hide wires through the suspension cables. Experiment with varying suspension heights and angles to create dynamic uplighting effects that illuminate your ceiling beautifully.
Surface Mounted Design
Outline your desired LED layout on the ceiling using a pencil and let your creativity flow. Ensure the ceiling surface is clean before affixing LED channels with adhesive strips. Carefully insert LED strips into open channels or pry open enclosed channels to insert the strips. Consider painting bold designs around the LED channels to add an extra pop of visual appeal.
Conclusion
By combining high-quality LED strips and channels with creative mounting techniques, you can design a showstopping LED ceiling masterpiece that will impress everyone who sees it. Let your imagination shine and create a lighting art installation that truly enhances your space.
Installing LED strips and channels allows you to transform any ceiling into a stunning light artwork. The flexibility of LED lighting offers endless possibilities for creative design, whether you choose recessed, suspended, or surface-mounted options. Carefully considering factors like light output, color temperature, and LED density will ensure that you select the optimal products for your specific needs. Additionally, with IP-rated LEDs, you can safely install lighting in bathrooms and outdoor areas, expanding your design possibilities.
Embrace the power of LED ceiling systems and let your creativity soar as you create a captivating lighting experience in your home.
Q&As
Q1: What are the benefits of LED ceiling lighting?
A1: LED ceiling lighting offers numerous advantages, including energy efficiency, design flexibility, long lifespan, and a wide range of color options. Discover how LED lights can enhance your space.
Q2: How do I install LED strip lights on my ceiling?
A2: Follow our step-by-step guide on installing LED strip lights on your ceiling. Learn about the necessary tools, preparation, and installation process to create stunning lighting effects in your home.
Q3: What are the different types of LED ceiling lighting designs?
A3: Explore various design options for LED ceiling lighting, such as recessed lighting, suspended lighting, and surface-mounted designs. Find inspiration and ideas to transform your ceiling into a captivating light artwork.
Q4: Are LED strip lights suitable for all rooms?
A4: LED strip lights are versatile and can be used in a wide range of rooms, including bedrooms, living rooms, kitchens, bathrooms, and offices. Discover how to choose the right LED lighting for each space.
Q5: How do I control the brightness and color of LED ceiling lights?
A5: Learn about the different methods to control the brightness and color of LED ceiling lights. From remote controls to smart home systems, explore the options for customizing your lighting preferences.
Comment